Vision & Mission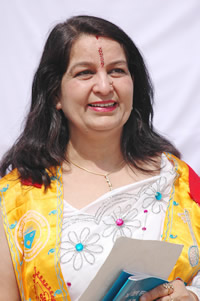 An eventful journey of six years has brought the university on the thresh hold of higher prospects in future, infusing new energies to contend with new phenomenas. We look forward to embracing the globalized vision of rich cultural heritage of Gwalior which was planted by Raja Mansingh Tomar. The dreams of Tansen, Baiju Bawra and stalwarts of Gwalior Gharana will be truly fulfilled with great endeavour by us. University is committed to further strengthening its multiple activities in practical and academics. I feel that the problems of quality in music, fine arts and theatre education could be tackled simultaneously on many fronts, so that we may sustain quality and excellence in teaching at higher level. 
On this happy occasion I would like to acknowledge the generous help, valuable guidance and support from our Hon'ble Shri Narendra Singh Tomar, Central Minister for Steel and Mines, who cherishes a dream that Raja Man Singh Tomar Music and Arts University, Gwalior may be developed as one of the premier institution of music and fine arts at national level. Also I would like to pay my sincere thanks to our Minister of Culture and Tourism, Director Culture and all those well wishers who actually came forward to help and assist in building the necessary infrastructure required for our ambitions efforts during the short span of time. Members of Executive Council and Academic Council have always stood with us and I have no word to express my gratitude to them.
I am thankful to the administration, the faculty members and the employees of this university, who have been the source of immense help in day to day development of this university. I feel their love and affection as they have stood by us on every occasion. In fact music has no language, no gender and knows no boundary. We are all one in unity when we share music and fine arts. I am grateful to media persons for cooperating with us and realizing what the university has done.
I reciprocate the love and affection of every one and look forward to the future of university with great deal of optimism.
Prof. (Dr.) Lovely Sharma
Vice- Chancellor